Take advantage of our exclusive offer for FTIR Owners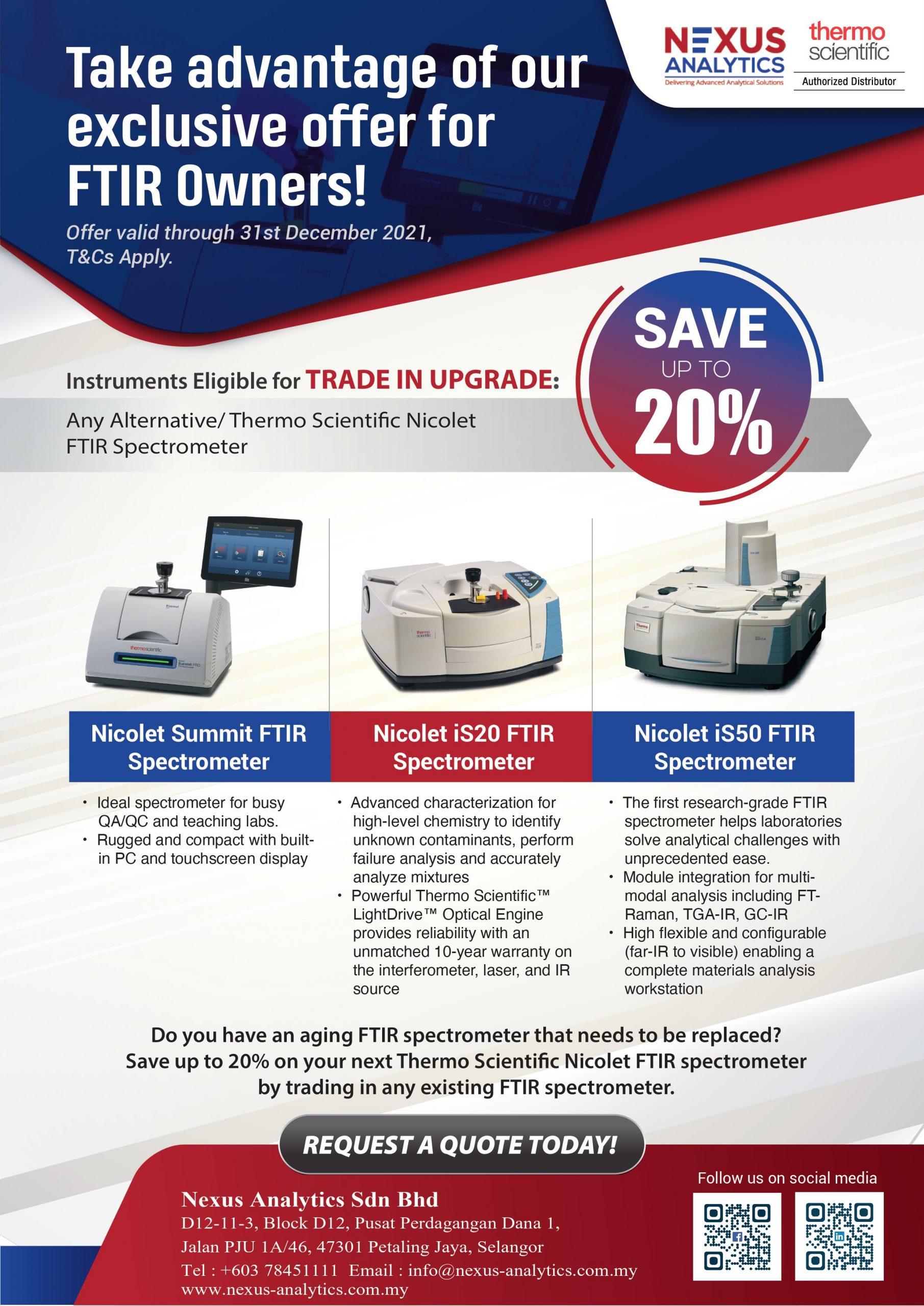 The Thermo Scientific Nicolet FTIR Spectrometers listed below have reached the end of guaranteed support (EOGS) on 31st December 2021. Upgrade now to avoid downtime!
Nicolet X700 FTIR Spectrometer
Nicolet 4700 FTIR Spectrometer
Nicolet 5700 FTIR Spectrometer
Nicolet 6700 FTIR Spectrometer
Nicolet 8700 FTIR Spectrometer
Nicolet 380 FTIR Spectrometer
The Thermo Scientific Nicolet iS50/iS50R FTIR Spectrometer, the newer version of your x700 series instrument, can boost lab productivity while maintaining uptime. Designed to be highly flexible, the Nicolet iS50 FTIR Spectrometer can be upgraded from a simple FTIR bench to a fully-automated multi-spectral range system that can acquire spectra from far-infrared to visible. You can initiate novel ATR, Raman and NIR modules at the touch of a button, enabling access to these techniques without manually changing system components.
The Thermo Scientific™ Nicolet™ iS20 FTIR Spectrometer sets the benchmark for analytical spectrometers everywhere. A 10-year warranty provides unmatched peace of mind for years to come and creates a new standard for a low cost of ownership. The newly designed Thermo Scientific™ LightDrive™ Optical Engine improves spectral quality so you can collect data 30% faster than before. Plus, the Nicolet iS20 Spectrometer provides a 50,000:1 signal-to-noise ratio and best-in-class spectral resolution of 0.25 cm-1. It is cloud-enabled to seamlessly upload and analyze data in Thermo Fisher Connect™. View and share spectra, search libraries, pick peaks and more with Thermo Fisher™ OMNIC™ Anywhere cloud-based spectroscopy software!
Upgrade and save 20% before it's too late! Fill out the form to request a quote today.